Jericho's Sunset
Release Date: 2013-01-04
Publisher: Shun Art Gallery
Visits:3125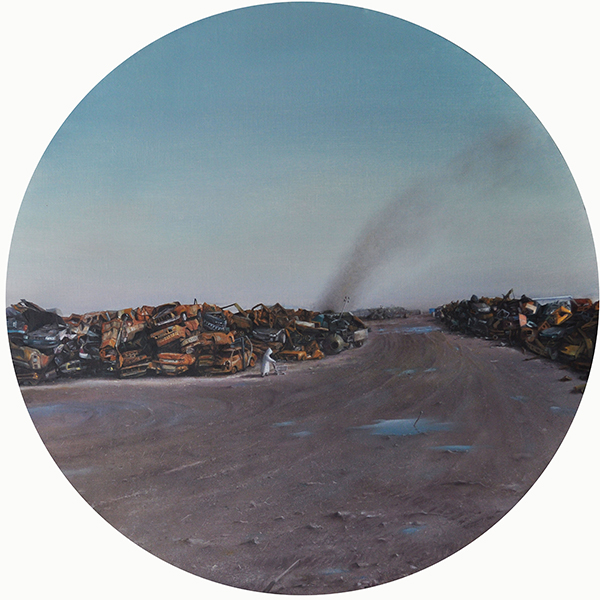 By the time human have consciousness, we realize that from born to death, from beginning to end, even if we choose death in the middle of the life, it's all about destiny.
So, who is pushing us paddle from this side of river to the other? Is it the money, the material, the power, the dream, the emotion or the value of living? Perhaps in the final analysis, desire makes everything. It could become a huge fire from sparks of flame. Just like the artist Gong He says that all the warm and harm are both come from this fire. We can lean close to the warm to move forward; also can destroy by the huge fire. Desire is like the tower without roof, all of these towers have a balance line that can not be seen, below the line is satisfaction, comfort, tranquility, happiness, and auspiciousness; above the line is rage, insaneness, violence, hurt, collapse, destroy, and ashes. Almost everyone forget the fear of height that they born with.
All our Life is like a play, we are only act seriously even though we deny it. Gong He is an artist who's calm and introspects. We can find from his work that he expresses the status of human living, mystery of the beginning and the end of life with all his enthusiasm. The artist tells us by his painting about what he has seen from his point of view with the calm and serious expression in his eyes. The money goes from satisfaction to ashes—form intact money to burning ashes; the power goes from control to violence, from the awareness of knowledge to the information overflow—the series of newspaper, from the search of ideal to the craziness of desire—the series of Mr. Potato's scars. Life is impermanent, but we all want to look for the Utopia between the life and death, just like the panda with dull eyes, just like the little person pushes his car with a poker face.